We would like to thank the following for their generous support of this Memorial Concert Series:
Peggy Passarell
ImpactAds.net
Aladdin Theater
Belmont Station
Candlelight Café & Bar
Cascade Bar & Grill
Cascade Blues Association
Echo Audio
Garrison's Fine Wines
Music Millennium
Oregon Music News
Original Halibut's
The Heathman Hotel
New Seasons Market
Portland Powder Coating
Delehoy College Counseling
Trail's End Saloon
Designer Visuals
Northwestmall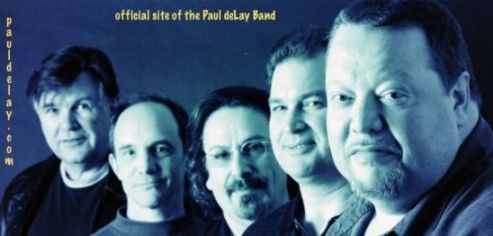 The Paul deLay Story Lives On
Legendary harmonica ace, songwriter and vocalist Paul deLay lives on in his music, in his incalculable influence on other artists, and in the hearts of blues fans, especially in his beloved Pacific Northwest. The outpouring of love for Paul and his band mates, both old and new, has been extraordinary. In addition to a series of memorial concert and tributes, the Paul deLay Band will soon release a live CD, recorded on tour between 2004 and 2006. The CD, recorded at sold-out venues and major festivals, fully captures the depth and power of a band that was all about live performance, and will be a welcome addition to deLay's outstanding body of work.
For most of deLay's last five years, his touring band featured Chicago-born Peter Dammann on guitar, Dave Kahl on bass, Jeff Minnick on drums, and Deep South native David Vest on piano, with Vest sharing lead vocals and front man duties, and contributing most of the new material the band introduced after 2001.
Although he continued to write new music, and to encourage Vest and Minnick to write songs, deLay's own focus in the 2000's was on the classics, returning to the source and testing himself against the kind of material that is called "standards" for a reason. When he drew from his own greatest hits, he reached most often for songs from deLay Does Chicago, although he never stopped performing the title tune from Nice and Strong, or his great soul ballad "Why Can't Your Love Me" from Take It From the Turnaround, a 1996 Evidence compilation featuring songs written by Paul while awaiting trial following a much-publicized drug bust.
During his 41-month prison "writing sabbatical," deLay penned the material for the CD that probably meant the most to him personally, Ocean of Tears. You can see all of the recordings deLay released under his own name here, and you can order them here. At some point we hope to add a complete discography to the site, including Paul's guest appearances on other CDs, such as David Vest's solo projects.
For a thorough account of Paul deLay's rise, fall, drug bust and recovery, see "Paul deLay: Groovin' In Limbo", the cover story in Blues Access Fall 1991).
Upon his release from prison, deLay took the Pacific Northwest by storm, proving that he deserved to be ranked among the greatest blues vocalists, songwriters and harmonica players, particularly on the chromatic harp, where his achievement is considered by many to be unrivaled. During this time the Paul deLay Band earned a reputation that extended far beyond the region. The principal sidemen from this period included Dammann, B3 organist Louis Pain, tenor sax man Dan Fincher, John Mazzocco on bass, and Mike Klobas on drums, all of whom reunited to honor deLay at a memorial concert in April 2007, along with other great deLay band mates, including Lloyd Jones, Jim Mesi, DK Stewart, Kelly Dunn, Don Campbell, Dover Weinberg, and many others. Celebrity guests at the memorial included Duffy Bishop and Chris Carlson, Linda Hornbuckle and Curtis Salgado.
The Paul deLay band has performed at many major festivals, and deLay in the course of his career garnered many honors.
Arkansas Blues and Heritage Festival (Helena)

Notodden Blues Festival (Norway)

Monterey Bay Blues Festival (Monterey CA)

Pocono Blues Festival (Blakeslee PA)

New York Blues Festival (Syracuse NY)

San Francisco Blues Festival
Waterfront Blues Festival (Portland OR)
San Francisco Battle of the Harmonicas
Ravenna Blues Festival (Ravenna, Italy)
Mt. Hood International Blues Festival
Bumbershoot Festival (Seattle)
Mt. Hood Jazz Festival (Portland OR)
Winthrop (WA) Blues Festival
Long Beach (CA) Battle Of The Harps

Awards
Handy Award Nominee, Instrumentalist (Harmonica)
Portland Music Association Crystal Award, Recording of the Year (1992), Paulzilla
Cascade Blues Association Muddy Awards: Best Recording 1991 (The Other One); Best Recording 1992 (Paulzilla); Best Harmonica 1988-'95; Lifetime Achievement Award 1995; Best Guitar 1990.
Handy Award Nominee, Instrumentalist (Harmonica)
Second Place, International Songwriting Competition, 2006

Major Appearances
The Paul deLay Band's early recordings on Criminal Records charted on blues radio playlists in the U.S. as well as Europe, winning fans in Holland, England, Germany and Italy. A "The Best Of Paul deLay" compact disc, You're Fired! was released on the British Red Lightning label in May 1990. The Norwegian Blue Wolf label licensed and released The Other One in 1992. Paulzilla, released in May 1992, featured ten deLay originals and received both the Cascade Blues Association Muddy Award and Portland Music Association Crystal Award for Album of the Year.