We would like to thank the following for their generous support of this Memorial Concert Series:
Peggy Passarell
ImpactAds.net
Aladdin Theater
Belmont Station
Candlelight Café & Bar
Cascade Bar & Grill
Cascade Blues Association
Echo Audio
Garrison's Fine Wines
Music Millennium
Oregon Music News
Original Halibut's
The Heathman Hotel
New Seasons Market
Portland Powder Coating
Delehoy College Counseling
Trail's End Saloon
Designer Visuals
Northwestmall






Remember Me 2010

Charlie Musselwhite and his Band, grounded in Norway this week by the Icelandic Volcano, won't be home in time to make it to the deLay Memorial concert at the Aladdin theatre on Sunday, April 25. So we've invited bluesman/songwriter/multi-instrumentalist Watermelon Slim up from Clarksdale MS to fill in. It also happens to be Slim's birthday on Sunday, so this is going to be a heck of a party!

Slim will be joining an allstar cast that includes Curtis Salgado, Linda Hornbuckle, Lloyd Jones, Jim Mesi, Tahoe Jackson, DK Stewart, Jimi Bott, Ty Curtis, Boston harmonica ace Nick David, Alan Hager and former members of the Paul deLay Band.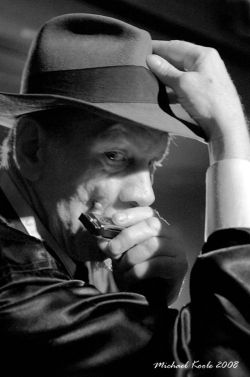 "Singing with a hard-weathered grace and punching out rough harp chords to deliver the only message that matters to him: the blues can rise out of the pulverized soil of bare existence." - Nashville Scene

"...one of the best contemporary blues albums in years. These songs pulse with a gospel-like joy and intensity." - All Music Guide

After being nominated Best New Artist at the 2005 WC Handy Awards, Watermelon Slim & the Workers were nominated for a near record six Blues Music Association Nominations the following year, including Band of the Year and Album of the Year.

Born in Boston, Mass., and raised in North Carolina, Bill "Watermelon Slim" Homans has taken his blues all over the US (including a stint in the '80s in Eugene OR), Europe, and Southeast Asia. During a career spanning over 30 yrs, Watermelon Slim has played with the late Henry "Sunflower" Vestine of Canned Heat, Bonnie Raitt, Robert Cray, the late John Lee Hooker, and in France with Champion Jack Dupree.

In December 2006 Watermelon Slim garnered six 2007 Blues Music Award nominations for Artist, Entertainer, Album, Band, Song, and Traditional Album of the Year. Only the likes of B.B. King, Buddy Guy and Robert Cray have ever landed six. His self-titled release was ranked #1 in MOJO Magazine's 2006 Top 10 Blues CDs, won the 2006 Independent Music Award for Blues Album of the Year, hit #1 on the Living Blues Radio Chart, debuted at #13 on the Billboard Blues Radio Chart ahead of both Robert Cray and North Mississippi Allstars, and won the Blues Critic Award for 2006 Album of the Year.

Watermelon Slim - Audio: Black Water

Black Water - William Homans (Watermelon Slim) - CD: The Wheel Man, 2007
Black Water (right click for download)

Watermelon Slim - Video: "Smokestack Lightning"

Watermelon Slim

Click HERE to visit Watermelon Slim's web site.